Torsion or Tension springs are heart of garage door's lifting system. Springs help garage door to go up or down. Without proper tension on springs or if spring is broken, garage door won't work. A friendly advice never tries to lift up garage door or fiddle with garage door springs. Wooden garage door can weight any where 140 kg to 200 kg, springs are always loaded with massive force. If anything goes slightly wrong, it can pose a serious danger.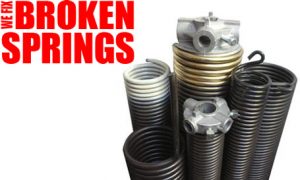 Garage door spring's life span is 10000 cycles; it falls between 5 to 10 years depending on automated garage door use. Once it reach end of life cycle, it going brake and you will hear loud pop sound and garage door won't move. This is the time to call us and get it replaced.
We replace old and broken springs with heavy duty springs. It is recommended to replace both springs. If one is replaced then sooner or later other one breaks.
We will not only replace springs. We also do 21 point check on automatic garage door. We make sure your garage door is fixed properly first time and keep working for years.
Call us 0730737373/0606066060